On May 19th, 2017, Atomwaffen members Andrew Oneschuk and Jeremy Himmelman were struck down in one of the most brazen acts of treachery that we've ever seen. Devon Arthurs, their murderer and betrayer, killed them due to their discovery of his psychotic plan to ambush and murder multiple members of Atomwaffen at a then-upcoming meetup. Their heroic sacrifice on the behalf of their comrades, some of whom they had never even met, typifies the honor and integrity that, at its best, the Atomwaffen Division was all about.

As one of the members who would've attended that meetup, I believe that I owe Andrew and Jeremy my life, and I can never repay the debt that I owe them. All that I can do is honor their memory, and to try and ensure that their great sacrifice was not in vain.

Devon Arthurs, their murderer, was recently sentenced in court. For the two brutal murders, in addition to three counts of kidnapping, he was given a paltry 45 year sentence, with the possibility of parole after 25 years. Having already served six years, Devon Arthurs could be released by 2042.

This kind of slap in the face, of course, is not anything new. John Patler, the assassin of Commander George Lincoln Rockwell, only served eight years in prison for that heinous act. The Message is clear: kill Nazis, and you will receive a light sentence.

This recent sentencing, however, only shows that we are on the right track. If we weren't, the "justice system" would not fall all over itself to be generous to our assailants. The US Government is trying to signal to us that we are second class citizens – harm us, and you will be given a slap on the wrist compared to other criminals.

But we, of course, shall not give in to their pressure. We will continue on our righteous path, whatever the consequences may be. No matter what they throw at us, and no matter how they try to persecute us, we will stand against this Jewish System, and we will loudly proclaim the Sacred Truth for all the world to hear. We can never allow the Sacrifice of Andrew and Jeremy, along with countless other martyrs, to have been in vain.

Heil Hitler!
Memorial Photo made by Kaleb Cole 2017 of Jeremy Himmelman and Andrew Oneschuk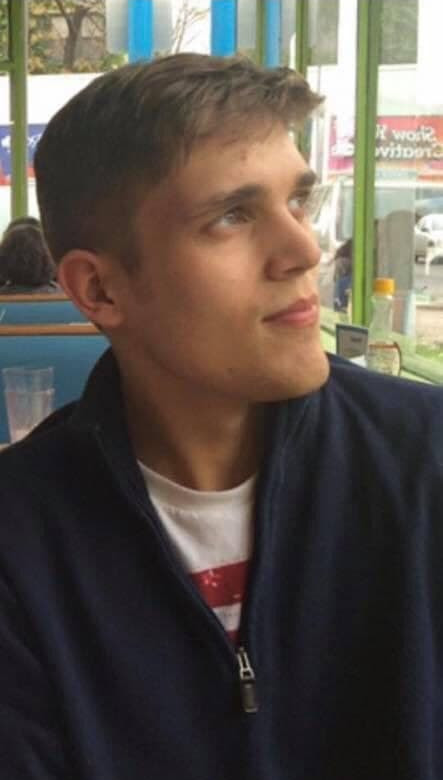 Jake Johnson, Original Texas Chapter Leader of the late Atomwaffen Division, died to suicide in May of 2016