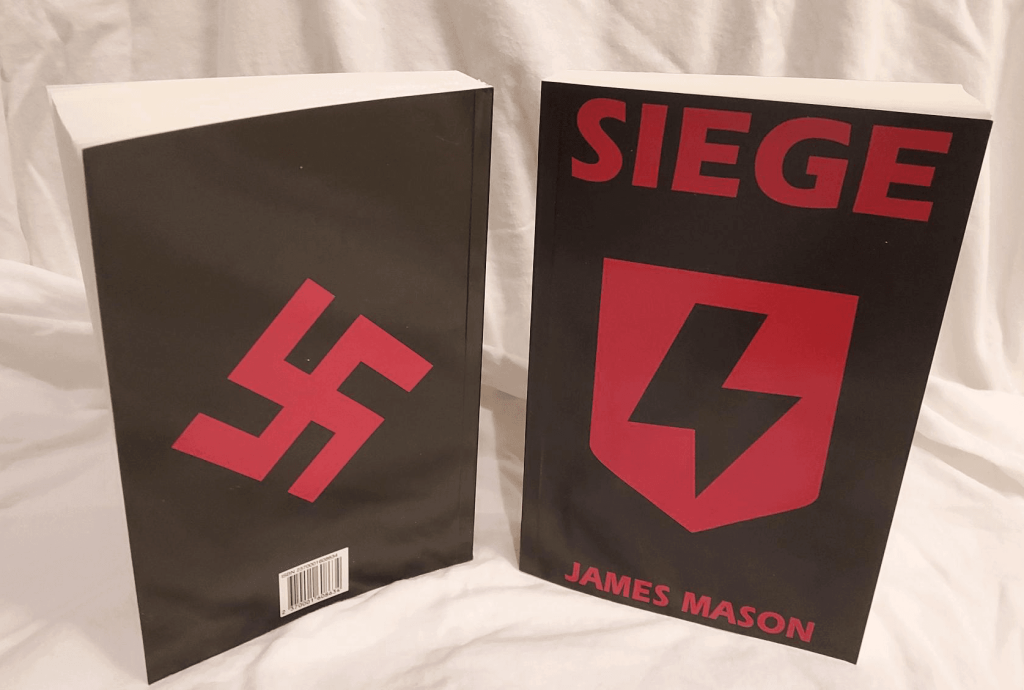 Price: $35
Domestic Shipping: $10 (if you order more than 2 copies, you'll have to pay additional shipping which we can discuss in email since this depends on order amount)
International Shipping: Contact us at [email protected] and we'll get you a quote ASAP and usually it'll be under $15. (Crypto Orders Only)
Description:
James Mason's chronicle of National Socialism in the United States is finally available in print once again. This book was way ahead of its time, and will likely go down as one of the most important National Socialist books from the latter half of the 20th century. Own your piece of history today!
""From 1980 to 1986 he published his newsletter SIEGE, where began to extrapolate his increasingly radical ideas. Violent, dystopian and in full support of racial terrorism, SIEGE lionizes the most virulently racist minds of its day. In the newsletter, Mason insists that only the full collapse of American democracy and society will bring conditions sufficient to bring order through Nazism." -SPLC
Please read the ordering guide below
Expect an email back within 24-48 hours

Due to the nature of our website and ideology, the American futurist cannot process orders as simply as any other website. We cannot use most payment processors, and even if this were an option it would likely be shut down and pose a risk to our users. As a result, we have a special ordering process requiring cash payment or bitcoin/Monero.


Crypto

:

1: Send us an email at

[email protected]

encrypted with PGP (guide here) with your order information and we'll give you a crypto address to pay to. Please create your own public PGP key and include it in the email so we can communicate back if there are any issues present.

View PGP Key Here

2: After we confirm payment, we'll send you a notification that we've received your order and will send another notification including your tracking information when it ships out.



Cash

:

1: Mail to us at our PO Box (which can be found at our contact) an envelope containing products ordered and shipping in addition to your shipping address with the final amount, you can send us currency of your country without issue as currency exchange can be done by us by our local bank without problems, blank Money Orders work as well as long as they can be cashed within the United States.

2: Expect it to take at least 2 weeks for us to get your order to you due to how slow USPS is. If you have any questions or concerns email us at

[email protected]

.



Disclaimer

:

The American Futurist has a very large incentive to keep your information as secure as possible. We do not want fellow nationalists to have any information leaked as it could harm them and our reputation. While we offer some less secure options (such as mail orders or bitcoin purchases) for your convenience, we HIGHLY recommend that you place your order to us through the PGP (PGP Guide Here) email system with Monero to a PO Box or Address of your choosing you own to minimize the amount of possible vectors for information theft. We will delete all relevant personal information from our systems after products have shipped.



For foreign purchasers

:

Please understand if you live under a particularly tyrannical government such as the United Kingdom that the importation and possession of the materials we offer here can be a very large legal risk. We do not take responsibility for this and request all customers be aware of the potential personal implications before purchasing anything from our website. We will have some methods to help disguise the product but we cannot guarantee anything in these situations.



Returns

:

We do not accept returns.