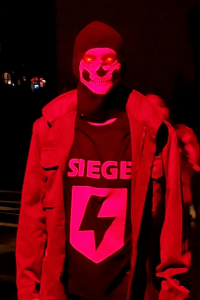 Price

: $25
Shipping

: $10 (free with the purchase of Siege), International Shipping will cost $40 due to shipping and handling costs however these costs are waved with the purchase of a copy of Siege.
Description

:
Siege branded T-Shirt avalible in Small, Medium, Large and Extra Large (currently out of stock of XL shirts). We don't go bigger than Extra Large, sorry.
Please read the ordering guide below
Crypto:

1: Send us an email at

[email protected]

encrypted with PGP (guide here) with your order information and we'll give you a crypto address to pay to. Please create your own public PGP key and include it in the email so we can communicate back if there are any issues present.

View PGP Key Here

2: After we confirm payment, we'll send you a notification that we've received your order and will send another notification including your tracking information when it ships out.

Disclaimer:

We do not want fellow nationalists to have any information leaked as it could harm them and our reputation. While we offer some less secure options (such as mail orders or bitcoin purchases) for your convenience, we HIGHLY recommend that you place your order to us through the PGP (PGP Guide Here) email system with Monero to a PO Box or Address of your choosing you own to minimize the amount of possible vectors for information theft. We will delete all relevant personal information from our systems after products have shipped.

For foreign purchasers:

Please understand if you live under a particularly tyrannical government such as the United Kingdom that the importation and possession of the materials we offer here can be a very large legal risk. We do not take responsibility for this and request all customers be aware of the potential personal implications before purchasing anything from our website. We will have some methods to help disguise the product but we cannot guarantee anything in these situations.

Returns:

We do not accept returns.